Guest post by Bethany Horst:
A life well lived leaves a legacy of faith and hope. I fondly remember my niece, Amanda. Quiet, joyful, tender. Restrictive Cardiomyopathy didn't keep her from enjoying the simple things in life.
Going out for Lunch
A week after Amanda's RCM diagnosis we went out for lunch together. "Why can't I keep the heart Jesus gave me?" Amanda's agonizing question gave me a glimpse into the pain she was experiencing. As we spent time together, I was deeply aware of the beauty and fragility of the life we shared.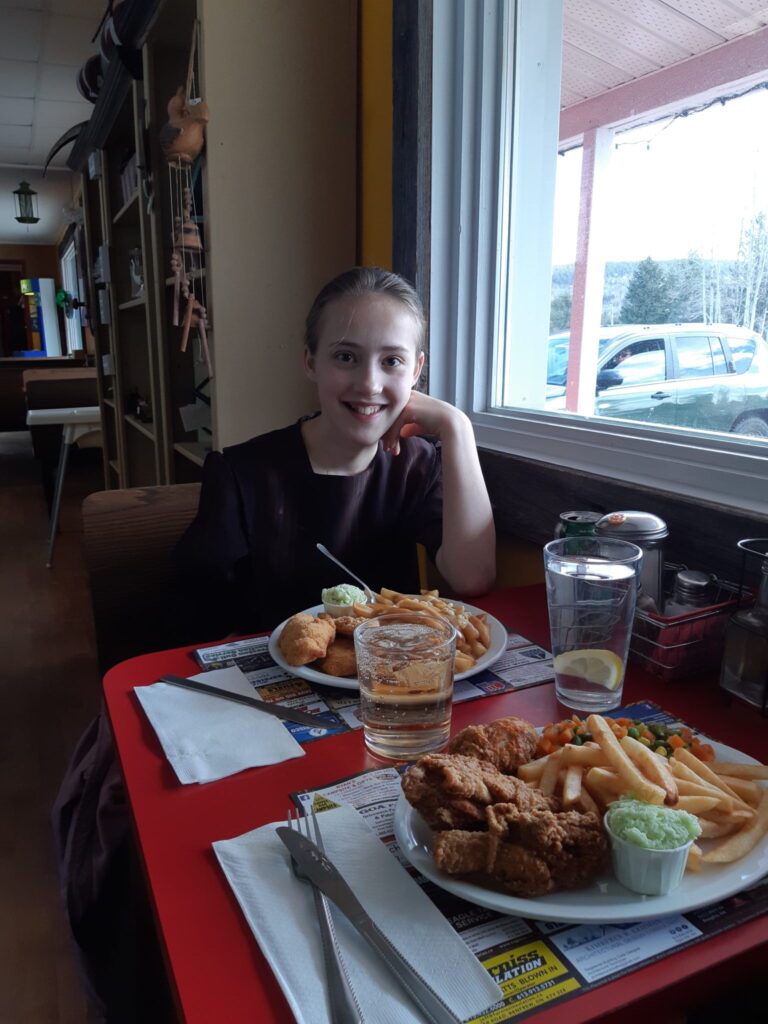 Longing for Spring
Later that day I stood with Amanda inside the window as she expressed her deep longing for spring. We stood together staring out at the frozen landscape, which seemed symbolic of the desolation the diagnosis had left in Amanda's world. She spoke of that change, of her longing for life the way it was Before. In her gentle and now almost plaintive tone she lamented, "I wish I could reach back into those happy, carefree days." Me too, Amanda. Me too. I turned to her and said, "You look like you need a hug." She came into my arms and rested her head on my chest while I murmured love into her hair. A lone tear slid down her cheek and for a moment I held all her pain and sorrow in my arms.
In the weeks and months following Amanda's death I often stood at that window as it were, looking out over the frozen landscape of life. I ached with longing for the happy days of Before. I ached to hug Amanda and whisper my love to her. As I gazed over the frozen landscape of life, I longed for spring. For the resurrection. For the new life I know Amanda is experiencing now.
Toronto Adventure
I spent some time with Amanda the week she was at Sick Kids hospital for tests. That evening Amanda and I had lots of time to chat as we lay in bed together. Amanda talked about the loss of not being able to join the youth on her 15th birthday and of the strain of wondering when the transplant would be. Long after Amanda was asleep, I lay awake memorizing the sound of her breathing, knowing that the heart beating inside her chest could stop at any moment.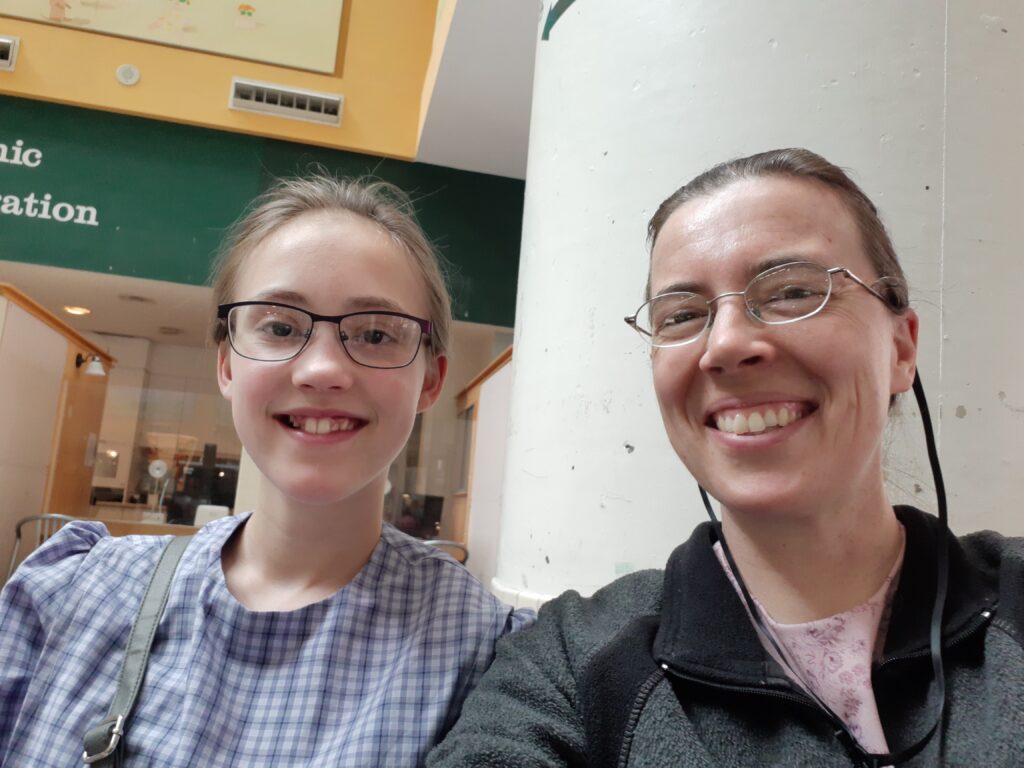 They Shall See His Face
The first morning after the family moved to the city, Amanda woke early and quietly stole over to the window seat in the loft where she and Vanessa slept. She sat with uplifted face, gazing out the window. She was a picture of complete serenity; I knew that she was looking into the face of her Lord. I wonder what it is like now that she has been in heaven for a year and seen her Lord face to face!
Pooh Sticks
Amanda, Vanessa, and I got up early that morning. The girls were eager to explore their new world! We strolled down the lane breathing deeply the fragrance of lilacs.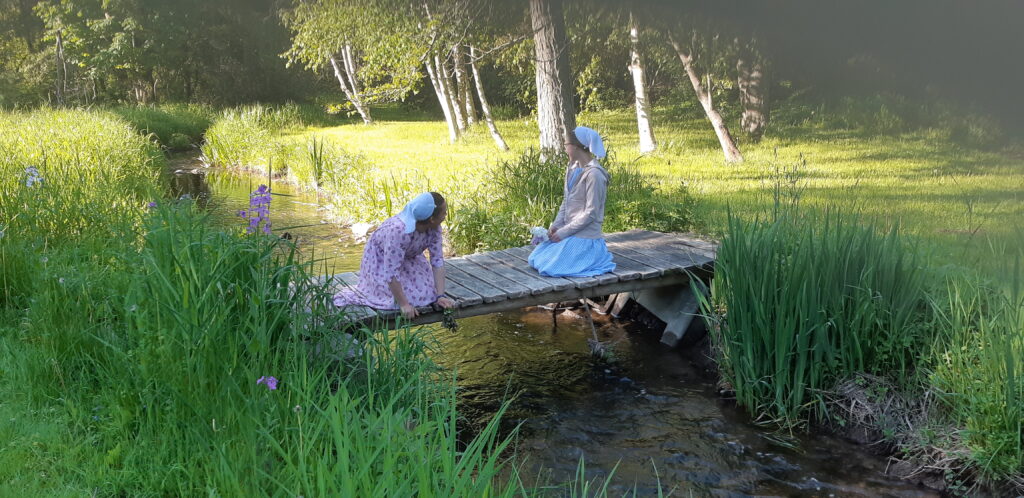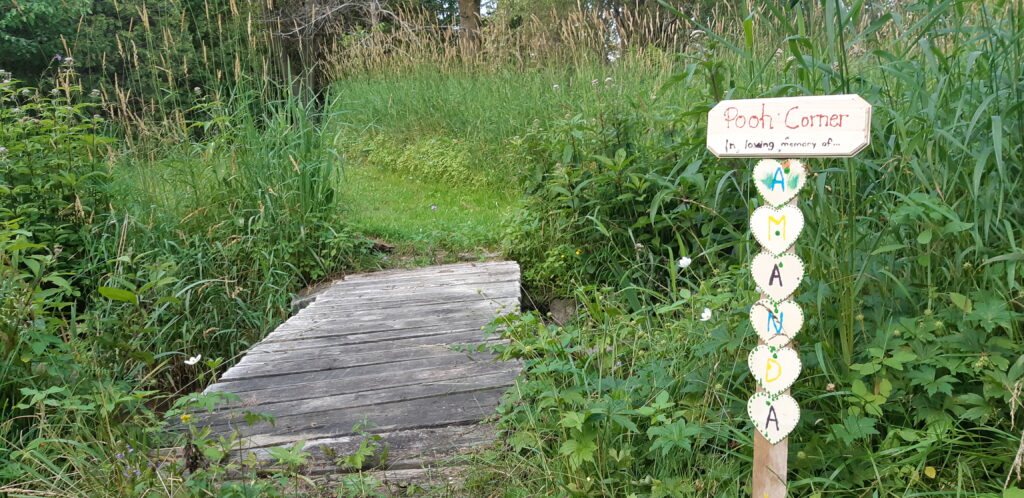 Losses, Acceptance, and Grace
Amanda, Vanessa and I knelt at the upstairs window listening to the gurgling of the creek. We talked about lots of things, like girls tend to do…of life and of losses. Amanda's eyes were brown pools of pain as we spoke of the losses that came with RCM. One thing I so admire about Amanda is how she never lived in denial of the harshness of her diagnosis and the drastic life changes it brought for her. Only somehow in her quiet simple faith, by God's grace she didn't lose her joy in the face of the pain.
One Year Milestone
This week marks a year since Amanda walked on ahead of us into Glory. It has been a year of heartache and tears but it has also been a year of experiencing God's comfort and grace. My heart was broken not only by the parting with someone who was so dear to me but also by the anguish I witnessed in her parents and siblings. The children loved to talk about how happy Amanda was in heaven. During one of these conversations I remarked, "But we feel a little sad that Amanda isn't with us anymore." Brown eyes looked reproachfully into mine as little lassie corrected me, "Not a little sad, REALLY sad."
This World is Not My Home
It was the evening after Amanda went to heaven. Long painful hours since Amanda had collapsed from cardiac arrest. We had clung together and sobbed; somehow we had stumbled through the day making the necessary plans. I was in the nursery getting the baby ready for bed when I heard it. Brave soloist on her guitar singing alone, "This world is not my home, I'm just a passing through…I have a loving sister up in Gloryland and I don't expect to stop until I shake her hand…and I can't feel at home in this world anymore…" I held the baby close and wept. It was a sacred moment of worship there in that place of intimate sorrow.
Weekend of Memories
Last weekend I spent some time back in Markham along with Galen and Patricia's family. We visited people and places that hold very meaningful memories.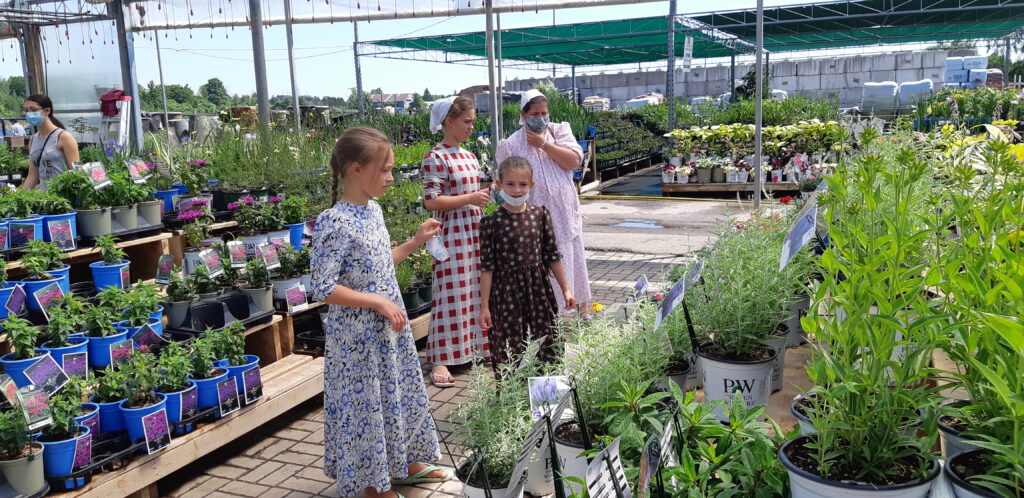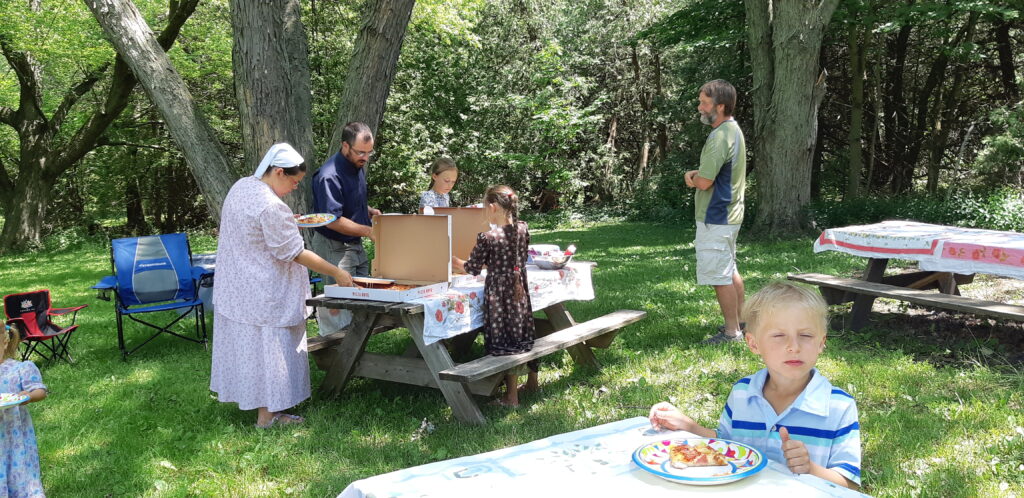 Pooh Corner Again
Vanessa and I visited Pooh Corner on Saturday afternoon. How special to walk down the lane again…but this time there was only two of us! We stepped almost reverently onto the little bridge. There we sat in silence each lost in the memories of the place. That now familiar feeling enveloped me – deep gratitude for what was and profound sadness for what will never be.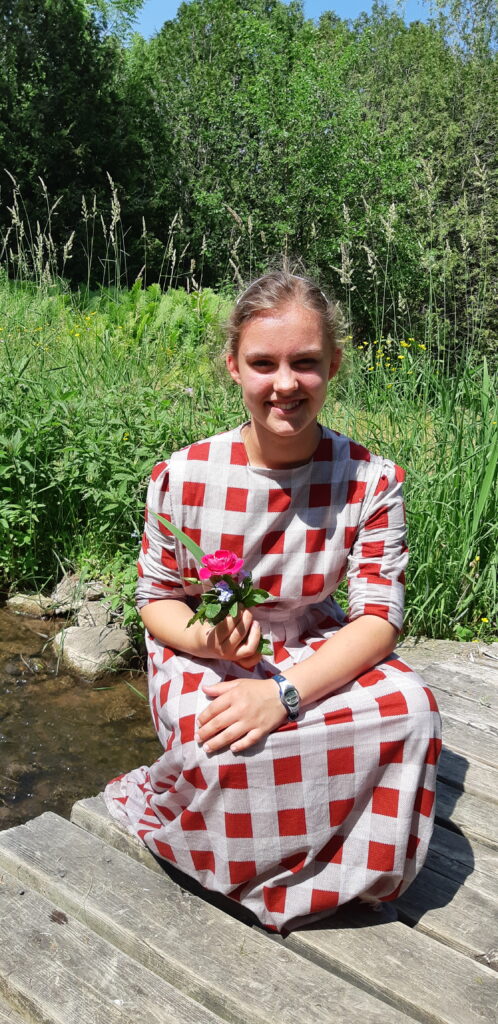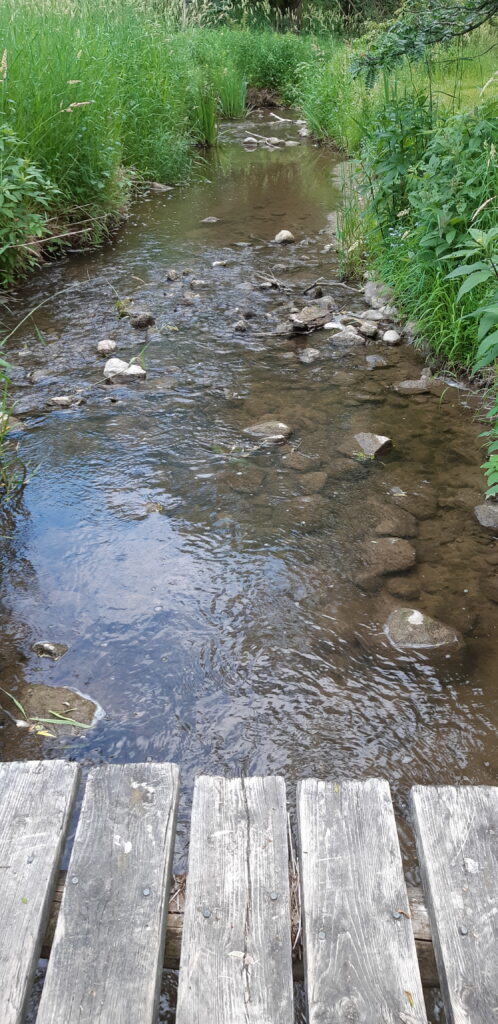 We played Pooh Sticks again, in memory of the delightful time we had there with Amanda. Vanessa's stick won by far! In Vanessa's words, "The creek is such a dreamy place!" Photo credit: Vanessa Horst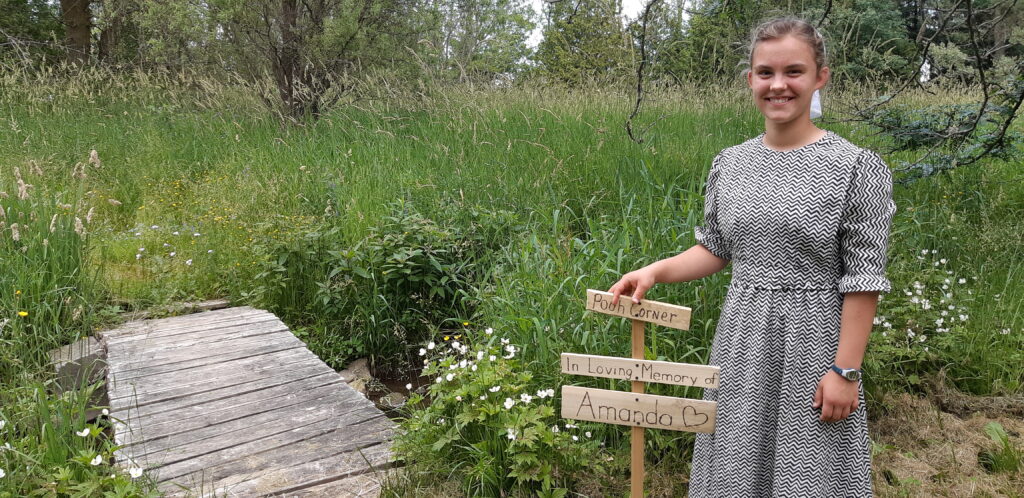 Forget-me-nots and Mint Tea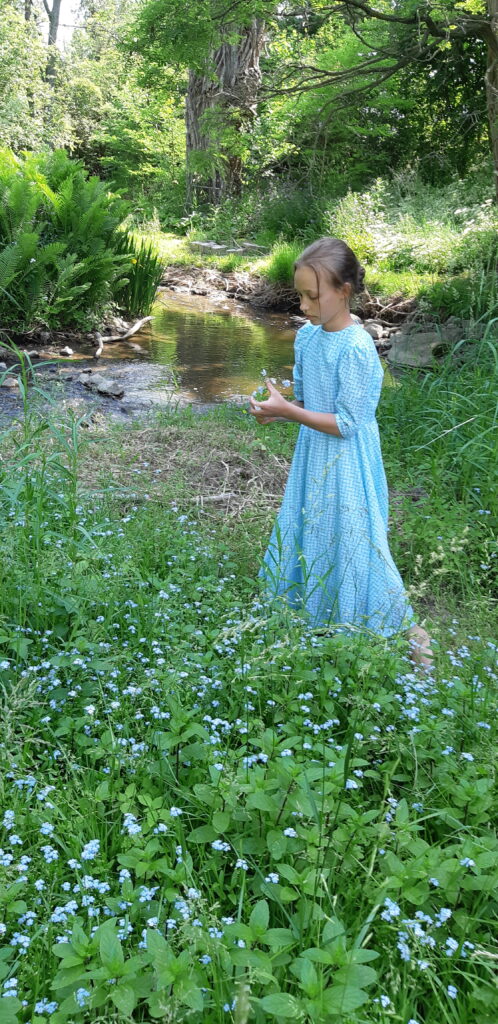 Close by Pooh Corner the creek meanders around a bend along a meadow of mint tea and forget-me-nots. It is an enchanting spot where we picked tea and bouquets with Amanda.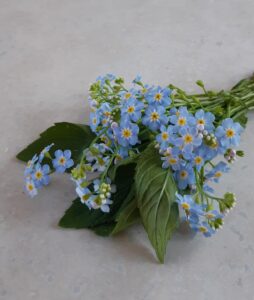 Andrea is picking forget-me-nots and remembering her sister. In Andrea's own words, "This is a very special bouquet."
Back at the Reesor Farm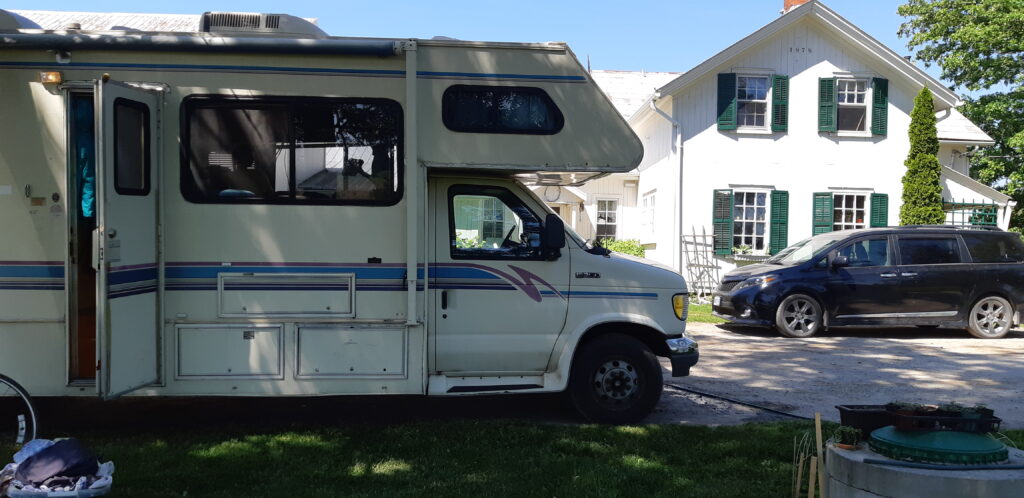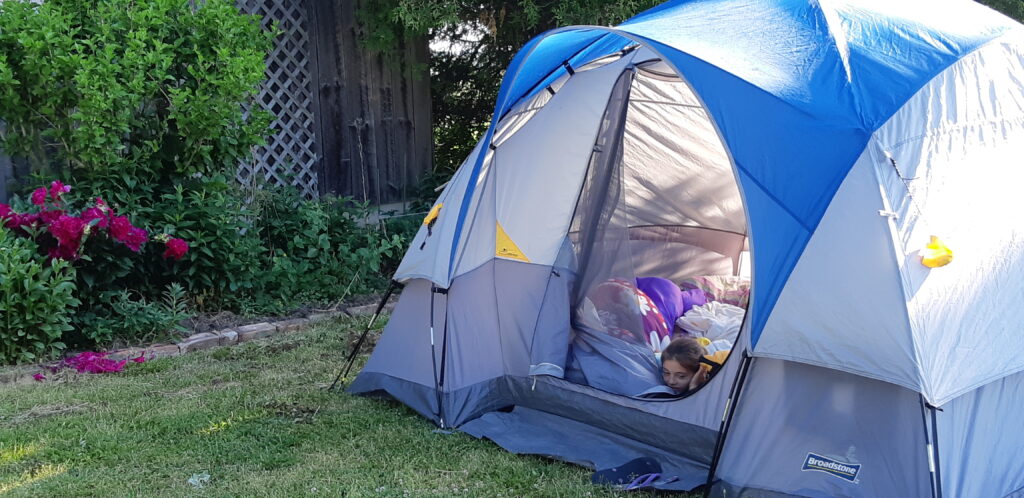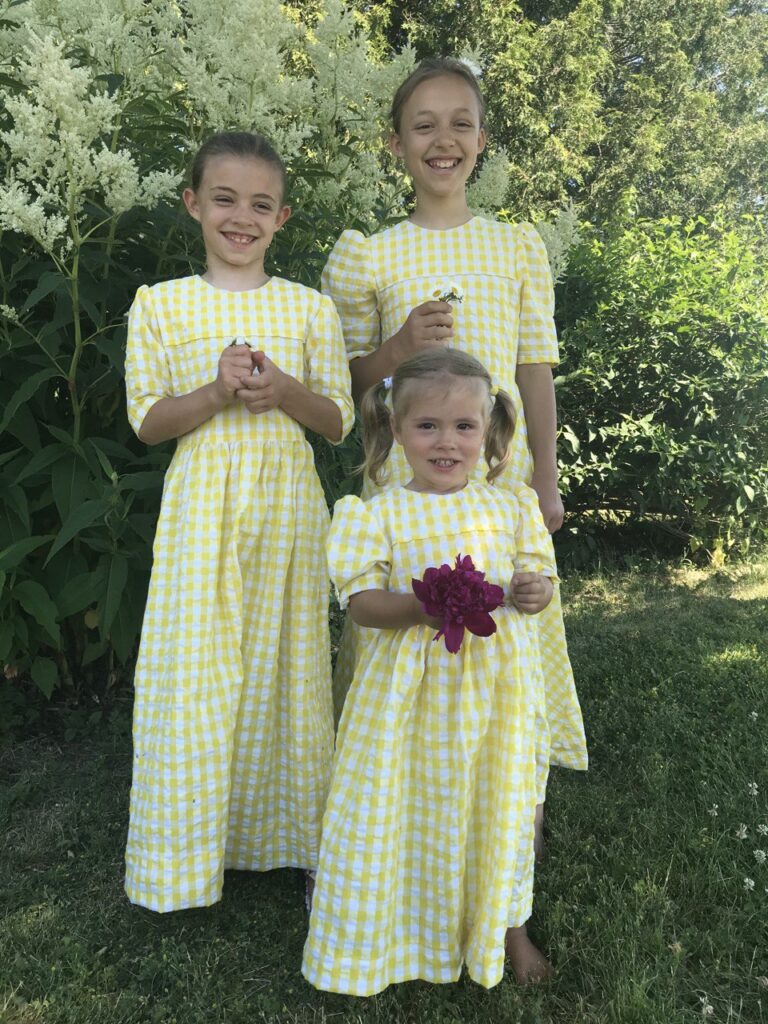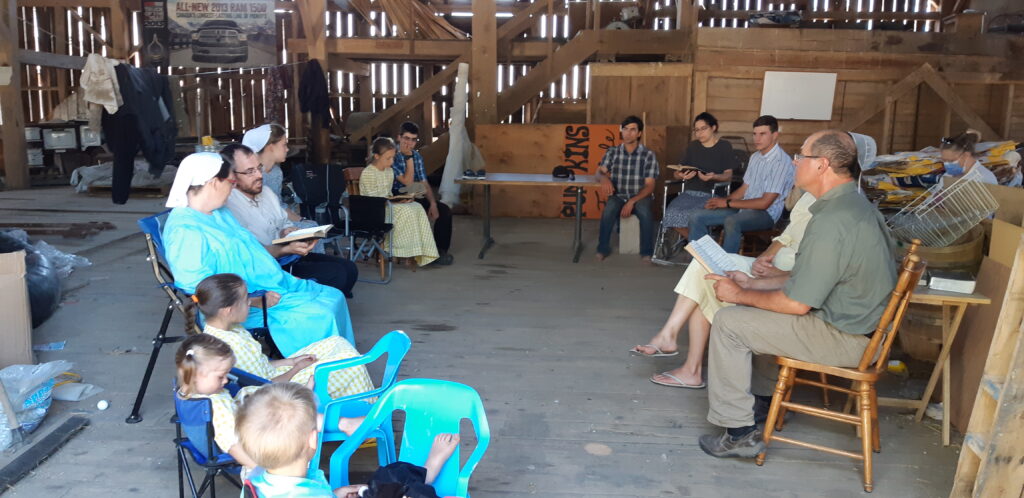 The Journey Continues
It was months after Amanda's death. As I read a Pooh Bear story to the children, they were the picture of merriment. Suddenly interjected into the fun was a poignant reminder of their grief. "Even when we're happy we're still sad. You're sad too." Clear blue eyes looked up into mine, beseeching me to understand. Little lad finished simply, "Because Amanda died."
I marveled. What a clear expression of grief. Even as life continues and brings new and happy memories, the sadness remains. And how simply he expressed the basic need of knowing that someone shares in the sorrow. So in closing, to this family who is so dear to me, "We remember your sorrow. God bless you as you continue to walk this valley of tears which will finally lead to Eternal Day."
PS by Galen: I want to thank Bethany for doing this post and I thank all of you who have walked this journey with us. Moving forward we intend to share occasional posts about our families life on the farm, RV trips or other adventures.